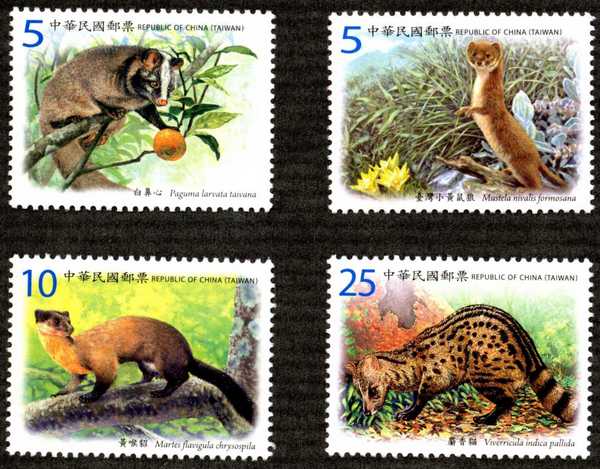 Protected Mammal Species in Taiwan Postage Stamps
First day of issue: 2012-11-07
To introduce protected endemic mammal subspecies of Taiwan , Chunghwa Post is releasing a set of four stamps. The designs of the stamps follow:
1. Paguma larvata taivana (NT$5): This species is found in the mountainous regions of Taiwan proper, Green Island , and Orchid Island . Its name in Chinese—"white nose civet"—comes from the white vertical stripe that runs from its nose to the area between its ears. Retractable claws like those of a cat make it a good tree climber. This civet will wrap its tail around branches to prevent itself from falling off a tree.
2. Mustela nivalis formosana (NT$5): This species is distributed in mountainous regions at an altitude of at least 2,500 meters. Its range includes the Snow, Hehuan, and Jade mountains. The weasel is short and small, with a short tail and legs. Its throat, chest, and belly are white, whereas the rest of its body is brown.
3. Martes flavigula chrysospila (NT$10): This species can be found in the mountainous regions of national parks in central and southern Taiwan, as well as the Dawushan and Wutoushan nature reserves. The animal sports a bright color coat. The golden yellow fur around its neck resembles a luxurious scarf. Its waist is darker in color, and its limbs and tail are blackish brown.
4. Viverricula indica pallida (NT$25): This species, also called "pen cat" in Chinese, is found in Yangmingshan, roadsides along the Northern Cross-Island Highway and mountainous regions of the Southern Cross-Island Highway, Kenting, the East Coast Mountain Range, and the Fushan Botanical Garden. The animal's anal gland and musk gland can emit a secretion with unusual odor. It has six black and tan stripes stretching from its shoulder to the base of its tail on its back. On the sides of its chest and waist there are some black markings of various sizes. It has a black and off-white ring tail.
SOURCE:
Chunghwa Post.com